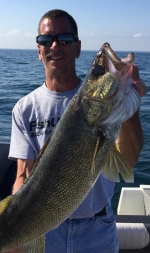 About Capt Andy:
I am a multi-species angler specializing in groups of 1-4 persons on the waters of Lake Erie and Lake Ontario. I have been fishing these waters for over 20 years and wish share my knowledge and love of fishing these waters. I am running charters for walleye and perch on Lake Erie and trout and salmon on Lake Ontario. I hold a Masters level U.S.C.G. license, and have charter boat guide license with the state of Ohio. My vessel has been inspected by the U.S.C.G. for the 2018 season. My main objective is to give you the most enjoyable day on the water as I possibly can.
Boat:
For 2018 I will be running charters with my Starcraft 210 Fishmaster powered by a 200 hp Mercury Verado. This boat was built for the big waters of the Great Lakes. It is one of the premier sport fishing boats being built today. Fishing from a smaller boat has its advantages and the experience is exhilarating.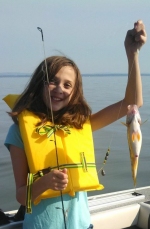 Ports:
Serving several ports on Lake Erie. Since I keep my boat on a trailer this allows me to chase the fish as they migrate from west to east. Approximately mid-May. The walleye fishing starts around Cleveland. Perch fishing is usually found off most areas at various times of the year. My favorite ports are Wildwood, Fairport Harbor, Geneva State Park, Ashtabula Township Park, and Conneaut Harbor, with Ashtabula and Conneaut having some off the best perch fishing in the area.
On Lake Ontario I run charters out of Olcott NY. These trips will be run in July for 2018. Additionally you should not feel the need to fill the boat. I work with smaller groups and structure my rates by the group size.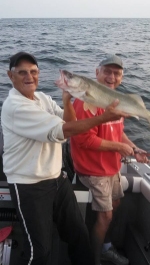 Things to bring:
Soft soled shoes, dress for the weather, rain gear, lunch snacks and drinks (no alcoholic beverages please), hat, sunscreen, sunglasses, camera, large cooler left in your vehicle to take your catch home, and if you are prone to motion sickness and choose to use medication follow directions on the package. Other remedies such as Sea Bands work well and are a drug-free alternative. A good night sleep is also helpful. For perch fishing you may bring a favorite rod or I can supply one for you. Walleye rods for trolling are supplied. I supply all bait for the trip.
Weather:
Can be a factor that may cause postponement of a trip. Your safety is my concern. I will do what I can in the event of bad weather to get you out at another time. Call the night before to check with me for weather conditions. Plan on going as weather can change by the hour I will usually not cancel a trip due to weather until the morning of the trip.
2018 Prices:
Full day 8 hours or limit
Walleye
Perch
Lake Ontario
1 person
$150
$100
$200
2 persons
$225
$150
$275
3 persons
$275
$200
$325
4 persons
$325
$250
$400
Full day 8 hours or limit walleye and perch
Lake Erie
1 person
$200
2 persons
$275
3 persons
$325
4 persons
$400
A $50.00 deposit is required to reserve a specific date with balance due the day of the charter.
Refund policy: full refund for deposits when cancellation is made 14 days in advance of trip.
All trips are weather permitting."
For any further Questions or for a charter please contact me anytime: 440 346-7673
Email: 64bigfish@att.net Facebook: Andy Durda


Nice Testimonials:
My husband and I went out yesterday and caught our limit on walleye. Captain Andrew is very safe, professional and friendly. Per my husband "he really knows how to put you on the fish." It was my husbands second trip this summer, second trip catching his limit. Go Monkey Sea 3.0. Thank you Captain Andrew, Yanira H
"Thank you again for a great trip yesterday. I have been on 6-7 charters on Lake Erie in the past couple of years, and you were the most professional guide I've fished with. Your attention to detail and focus on safety really made me comfortable having my family on board. I also appreciate that you were willing to talk to me about the lake, the trolling set up, and answered all of my questions. Many guides are unwilling to share much info about what they are doing. I look forward to getting back to your way in the near future. Thanks again, Josh P